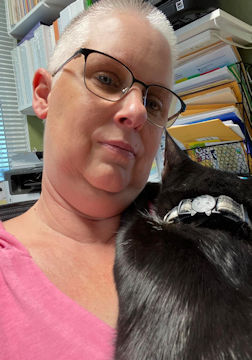 Hello! My name is Colleen and I have been operating my family childcare home since the year 2000. Prior to that I worked in an Infant and Toddler Program in San Jose, CA for 4 years. I'm married and have 3 adult children who currently still live at home while working full time and / or attending college. My middle child has Down Syndrome and is largely the reason why I chose to open my childcare home many years ago. My husband whom I have been married to for almost 29 years is an automotive retail store manager.
I enjoy baking, using my Cricut machines and reading when I have some down time. I also love cats and have 3 that live in my home, and I care for a couple of feral / stray cats in my neighborhood.
In my childcare home, it is my goal to provide a loving environment that teaches socialization and manners while working towards school readiness through the power of play.